The drive went very smoothly to pick up our new puppy. The children were quite anxious and asked every 10 minutes, "Are we there yet?" I felt like we were living a stereotypical scene from a book, lol! Heather Goines with Cheyenne Valley Labradoodles was just as wonderful as I had imagined and didn't seem the least little bit overwhelmed with our entire family shrieking as we exited the minivan. And there he was… Charlie. He is sooooooo cute. I can't put into words how soft and sweet this puppy is. He is 10 weeks old and very, very calm so far. He slept in our arms the whole way home, with everyone taking turns holding him. Anna got to hold him the most as we are hoping they will bond the most. We've been home a couple of hours now and he has yet to walk around and investigate… Rocky seems to like him so far and we are all ga-ga over him. He's a total cuddle bug and just wants to be close. I had to take about 50 pictures to get a few where you could see his eyes… he's like a little Muppet.
Here is a picture of Anna holding him, she is totally enchanted.
Here is one with both kids petting him.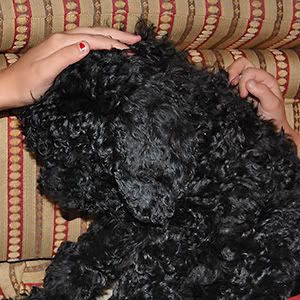 And two adorable shots of his sweet, beautiful eyes…
I think that last picture is going to be my new avatar for a while! Thanks for sharing our excitement!!! We're going to take a walk soon and introduce Charlie to the neighborhood kids.